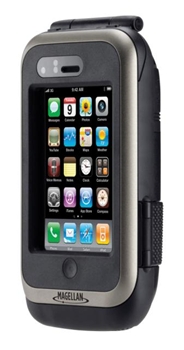 The Magellan Tough Case for iPod & iPhone is now in stock.
This unique case design allows you to interact with your device while it remains protected from the elements, including the touch screen, hard buttons, and audio headphone jack access. The integrated dock connector unites your iPhone or iPod touch with the ToughCase for power, audio, and GPS. Most importantly, the touch screen is responsive and 100% functional!
The Magellan ToughCase comes equipped with a SiRFstarIIII high sensitivity GPS chip set that enhances the accuracy of any location based and navigation app. or add GPS functionality to your iPod touch. The ToughCase also adds an 1840 mAh internal battery that automatically charges your iPhone or iPod touch. Based on your normal use of the device, the ToughCase battery will double the life of your iPhone or iPod touch.