Fixed Mount, Pan and Tilt Thermal Imaging Camera
Flir's M232 Pan and Tilt Thermal Imaging Camera provides an affordable solution to night vision! See in complete darkness with the M232 with 320 x 240 thermal resolution and 4x e-zoom. The M200 from FLIR provides an enhanced level of safety and navigation.
Small in size the M232 can see a person in the water up to 1,500' away while viewing a small vessel up to 0.67nm away! With a 360°

continuous panning view and a tilt view of +110°, -90° this compact camera offers a 24° x 18° field of view ensuring you can see your surroundings and maneuver through the water with confidence and ease.
An exclusive benefit of pairing the FLIR M232 with a Raymarine Axiom MFD is ClearCruise Intelligent Thermal Analytics which will provide audible and visual alerts when "non-water" objects such as a boat, buoy, or person is identified with your scene. You must have an Axiom display to have this feature. The included Raymarine AR200 Augmented Reality Module will stabilize the M232 camera with Roll Correction- see more information about the AR200 below. Roll correction automatically adjusts the Video app image when the vessel tilts (rolls) to port or starboard. When enabled, the Roll Correction feature accounts for the boat tilting and stabilizes the video feed accordingly. This means that the video feed's horizon will be parallel with the actual horizon. When disabled, the video feed will tilt with the boat and the MFD screen.
The Raymarine AR200 consists of a Global Navigation Satellite Systems (GNSS) Receiver and Attitude and Heading Reference System (AHRS) sensor which provides position, heading, pitch and roll data to your compatible Axiom display. The AR200 can be used as a source of GPS position and heading data for other devices in your network and has a 10Hz refresh rate.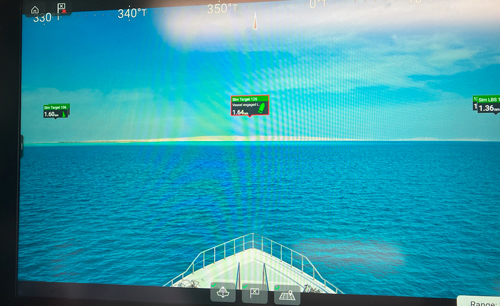 What is Augmented Reality? Augmented Reality allows for the overlay of data objects (such as waypoints, chart data and more) in a unique field view in front of your vessel, see above image. ClearCruise is a form of Augmented Reality that is possible when you pair the AR200 with a compatible camera, listed below. ClearCruise Augmented Reality will overlay these data objects onto a live camera feed being displayed on your compatible Raymarine Axiom display, see screenshot below.
The AR200 is compatible with the following Raymarine displays:

Axiom 7/7DV/7RV/9/9RV/12/12RV
Axiom Pro 9RVX/9S/12RVX/12S/16RVX/16S
Axiom XL 16/19/22/24
Each FLIR M232 Thermal Camera and AR200 Camera Stabilization Bundle comes with:

FLIR M232 Pan/Tilt Thermal Image Camera
Thermal Camera Base Seal
Thermal camera fasteners: nuts, dome nuts, spring washers, flat washers, and threaded studs
Power Cable
Raynet to RJ45 Adapter Cable
Raynet to Raynet Cable
Documentation Pack
Two-Year Warranty
Mounting Trim (Top)
Small Sealing Ring
AR200
3 Large Bulkhead Bracket Fixings
Mounting Tray
4 Small Surface Mount Fixings
Bulkhead (wall) Bracket
Large Sealing Ring
Documentation
6m SeaTalkng (White) Cable

Size:6.34"W x 9.03"H

FLIR M232 Special Features
Pan and Tilt for Optimum Viewing
320 x 240 Resolution
4X Electronic Zoom
Ball Up or Ball Down Mounting
Product Accessories for FLIR M232 Thermal Camera and AR200 Bundle

Marine Network Cable PoE Isolation Coupler, Required when installing a FLIR camera on a Garmin Marine Network. Also requires an additional Garmin Marine Network Cable to connect from Coupler to MFD.

The JCU-3 Control Unit allows for full control of your compatible FLIR camera. With multiple removable faces included, the JCU-3 can be mounted vertically or horizontally to best suit your space. Rugged and waterproof, never worry about the durability of your control unit.

The FLIR IP to Video Decoder allow you to connect the M132/232 to an analog video input on your MFD.
Similar Products and Value Bundles
Flir's M-232 JCU-3 Bundle features a Pan, Tilt & Zoom Thermal Camera, the most compact and affordable to date. Offering a 320 x 240 resolution with 9Hz refresh rate, the M232 improves navigation and safety by assisting boaters with better views morning, day or night! View a person up to 1,500' away and a small vessel up to .67nm away.

FL70354B

MAN#

E70354

ID#:

5718