5.5-Inch All Terrain Motorcycle GPS with Street and TOPO Maps!
Whether your adventure is on-road or off-road, the Zumo XT Motorcycle GPS has your covered! The large 5.5-inch display is glove-friendly and rain-resistant, providing performance in even the harshest conditions. Preloaded street maps include the U.S., Mexico, Canada, Puerto Rico, U.S. Virgin Islands, Cayman Islands and Bahamas. Preloaded off-road topographic maps feature North and Central America public land boundaries, 4x4 roads and more. The Zumo XT also includes BirdsEye Satellite Imagery with direct-to-device downloads via Wi-Fi connectivity with no annual subscription. Easily toggle between these map options ensuring you have the coverage you're looking for, regardless of where your adventure takes you.
The Zumo XT will keep you on your toes. Adventurous routing makes even the most straightforward route fun. Simply select your road preferences and let the Zumo XT do the work. The track recorder feature allows you to store and save rides for future use, while the Garmin Drive App allows you to easily send GPX files from your phone to your zumo Xt or share with friends.
The Bluetooth enabled Zumo XT will stream music from your smartphone through the zumo XT or opt to use the built-in MP3 player to stream music to your connected helmet or headset. Stay on the right track with spoken turn-by-turn directions sent to your connected helmet or headset. These spoken turn by turn directions will be in the form of Garmin Real Directions- using street names, store names and recognizable landmarks to prompt turns.
The Zumo XT is compatible with the Garmin inReach Mini Communicator (Sold Separately). Pair your XT with a compatible inReach satellite communicator for two-way messaging, location sharing and, in case of emergencies, SOS capabilities. This is a great option if adventuring in remote areas!
The Garmin Zumo XT is compatible with Garmin's PowerSwitch (Sold Separately)- a compact digital switch box that offers convenient centralized control of your vehicle's 12-volt accessories from your smartphone or Zumo XT. Create and control custom switch panels with customizable labels, icons, channel groups and more. Light bars, horns, air compressors, locks, BC40 Wireless Camera and more can be controlled from your Zumo with ease. Garmin's PowerSwitch app on your smartphone can also control these devices, allowing for a convenient and all-inclusive approach to your electronics setup.
Interested in learning more about the Garmin PowerSwitch? Click here to learn more!
Want to take the Zumo XT off of its charger for handheld use? With the backlight set at 100% brightness, the battery lasts up to 3.5 hours, and it can go up to 6 hours on regular settings. Another power option is to hard-wire to constant power on your motorcycle for longer adventures.
Want the freedom to explore both on-road and off? The Zumo XT offers advanced features and multiple map options all within one rugged display!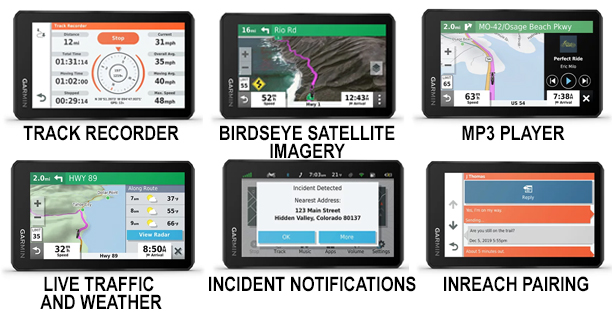 Garmin Zumo XT Motorcycle GPS Box Contents
Each Garmin Zumo XT Motorcycle GPS Comes with:
Garmin Zumo XT GPS
Motorcycle Mount and Hardware
Motorcycle Power Cord
USB Cable
Documentation
1-Year Warranty
Garmin Zumo XT Motorcycle GPS Key Features
Glove-friendly and rain-resistant! (IPX7)
Hands-free calling to inReach Satellite Communicator
Preloaded with Adventurous Routing
North America Street Maps, TOPO Maps and BirdsEye Satellite Imagery
Rider Alerts for Hazards
Size: 5.8"W x 3.5"H x 1"D
Garmin Zumo XT Motorcycle GPS Owners ManualClick Here
Product Accessories for Garmin Zumo XT Motorcycle GPS
Similar Products and Value Bundles
The Garmin Zumo XT Value Bundle features the standard Zumo XT package bundled with
Whoosh Screen Cleaner and an XS800 Padded Carry Case.


Instant Savings with Exclusive The GPS Store, Inc. Bundle!
GA02296S

MAN#

010-02296-00

ID#:

7422