Improve Safety and Visibility While Cycling on the Trail!
The Garmin Varia UT800 is a cycling headlight that automatically adjusts beam intensity based on speed when paired with a compatible Garmin Edge cycling computer with ambient light sensor (*sold separately) to give you the lumens you need. The UT800 can provide 25 hours of battery life on its lowest setting, or 1.5 hours on its high setting. The UT800 provides 5 light modes including high, medium, low, night flash and day flash.
The Garmin cycling headlight provides 270-degrees of visibility and a visibility distance of 1 mile. This lightweight device us under 5 ounces and is compact enough to stay out of your way while cycling. Don't let the sun's rhythm determine your cycling schedule! Take on the road or trail whenever you want with the UT800 cycling headlight.
The trail edition includes the Garmin helmet mount. Pair with a compatible Garmin Edge cycling computer to automatically turn lights on or off and control brightness. Don't have an Edge cycling computer? No problem! The UT800 can be used alone without a Garmin Edge if you choose.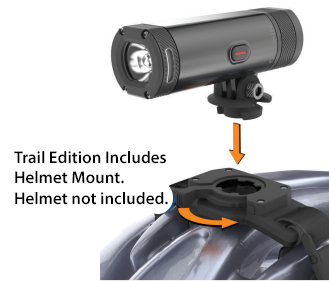 Garmin Varia UT800 Smart Headlight-Trail Edition Box Contents
Each Garmin Varia UT800 Smart Headlight-Trail Edition Comes with:
Varia UT800 Smart Headlight
Charging Cable
Helmet Mount
Manual
1-Year Warranty
Garmin Varia UT800 Smart Headlight-Trail Edition Key Features
Battery life: 1.5 hours, high; 3.0 hours, medium; 6.0 hours, low; 25.0 hours, day flash; 6.0 hours, night flash
270-Degrees of Visibility
1 Mile Visibility Distance
Pairs with select Garmin Edge Bike Computers or can be used alone
Increases safety and visibility while cycling
Size: 3.8"W x 1.3"H x 1.2"D
Garmin Varia UT800 Smart Headlight Owners Manual Click Here
Product Accessories for Garmin Varia UT800 Smart Headlight-Trail Edition

Garmin High Speed Multi-Charger with 2 USB ports. Use the 12v female outlet for your GPS and the USB to charge your phone or other USB Device. USB Cable not included.

Connect your Garmin device to your computer or laptop using this microUSB cable to update your device software, download new vehicle icons, connect to GarminConnect and much more. Check compatibility below.

Garmin Carry Case for Garmin Descent, Forerunner Series, Enduro Series, Varia Series, Edge Series, Approach Series, Instinct, Epix, Enduro, Quatix Series and fenix Series.
Similar Products and Value Bundles
Pair Garmin's Varia RTL515 with your Garmin Edge bike computer or compatible smartphone to alert you of vehicles approaching from behind! Received visual and audible alerts of vehicles approaching up to 153 yards away. Daylight Visibility with up to 16 hours of battery life in day flash mode this is a must have to keep you safe while out on the open road!
GA02376

MAN#

010-02376-00

ID#:

6998
The Garmin Varia RVR315 Rearview Radar provides maximum awareness while cycling by providing visual and audible alerts for vehicles approaching from behind up to 153 yards away. The Garmin Varia radar integrates with your Garmin Edge, compatible Garmin wearable or compatible smartphone.
GA02252

MAN#

010-02252-00

ID#:

7001
The Garmin UT800 Smart Headlight provides visibility from more than 1 mile, projecting a steady 800 lumens for up to 1.5 hours. Longer battery life can be expected with lower light outputs. Pair your UT800 with your compatible Garmin Edge bike computer or use it by itself!
Urban Edition includes universal out front mount for bike mounting
GA01673

MAN#

010-01673-00

ID#:

7002