Welcome to The GPS Store, Inc. - we give you the "Freedom to Explore" !
About Us
The GPS Store was formed in 1997 with a mission to provide our customers with a better alternative to typical mail order and Internet companies. Our goal is to provide exceptional customer service, great prices and expert advice resulting in the most enjoyable shopping experience possible. Today, The GPS Store, Inc. is the place to find the most extensive selection of GPS units, marine electronics, outdoor gear, accessories, and GPS related equipment all in one place.
Fast Worldwide Shipping.
We are factory authorized dealers for every brand we sell and maintain a large inventory of all the products we sell, including the hottest new gear, which means your order ships fast, normally the same day, and backorders are kept to a minimum.
Low Discount Prices.
Our volume buying allows us to get the best possible prices and pass the savings along to you. Look for items marked "Special Buy" and our weekly specials available on our website. We always strive to provide you competitive pricing in combination with our award winning customer service.
Expert Advice.
Our staff has over 30 years of experience in the industry and we are available to provide expert advice and practical solutions to all of your marine electronics and GPS needs. Our staff includes NMEA certified installers and NMEA 2000 certified technicians. You are welcome to give us a call and speak to a staff member who actually uses GPS and is qualified to answer your questions. We feel our people are the best in the business, Click here to meet our team!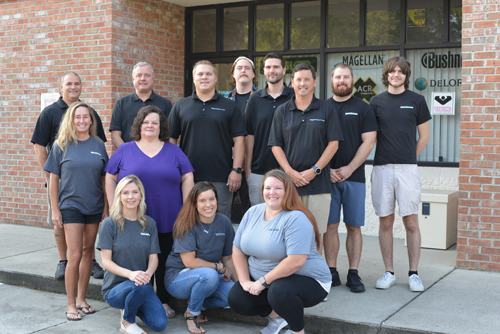 Award Winning Customer Service.
Our commitment to customer satisfaction is second to none. We want you to be happy with your buying experience therefore we stand behind our service with our 45 day return policy. Our award winning customer service is not just something we talk about, it's something we take pride in doing.
Our headquarters is located in beautiful Ocean Isle Beach, North Carolina. Here we house our "hands on" retail showroom, mail order customer service and sales staff, our warehouse, shipping and fulfillment facilities. By having everything in one location we are able to operate at peak efficiency, which means lower prices and better service for you.
We invite you to visit our headquarters if you are in the coastal Carolina area, and look forward to helping you with all your GPS and marine electronics needs.

"I just wanted to mention that I appreciate the immediate and knowledgeable support I received from The GPS Store team. With your help I was able to make a quick decision and purchase an important Christmas gift."
Regards,
J.R.
"This was a good experience throughout the process. They had the product in stock and shipped it right away. I received the merchandise within three days and with a reasonable shipping rate."
T.D.
"The buying experience was as good as it could possibly be. I am very satisfied with every aspect of this purchase."
Thanks again,
G.R.
Click here
to read more emails from just a few of our satisfied customers.
The GPS Store
, Inc. 6899 Beach Drive Ocean Isle Beach, NC 28469
910-575-9544, Fax 910-575-9543
Lat- 33.53.934 - Lon- 78.28.175
All Materials contained within this site are Copyrighted 1998-2023.
We make every effort to ensure the accuracy of information on this site, however sometimes mistakes are made and The GPS Store, Inc. cannot be responsible for any typographical, picture or specification errors. We appreciate your understanding.