Your experience as our customer is our number one priority.
Follow the links below to find the answers to our most frequently asked questions.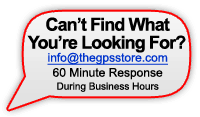 Contact Us
Mailing Address:
The GPS Store, Inc.
PO Box 7659
Ocean Isle Beach, NC 28469
Corporate Headquarters:
The GPS Store, Inc.
6899 Beach Drive
Ocean Isle Beach, NC 28469
Product and general questions:
info@thegpsstore.com
Questions about an order you already placed
sales@thegpsstore.com
Problems with our website:
webmaster@thegpsstore.com
Phone 910-575-9544
(9am to 5pm Eastern Time, Monday through Friday)
We are currently operating during our normal hours; Our customer service and warehouse staff are here to assist you!
Our showroom is now open for pickups and orders, however product demonstrations are not currently available.
24 Hour Fax Line: 910-575-9543