If your transducer is spending a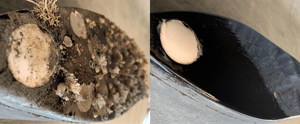 significant amount of time in the water it is going to quickly grow a layer of marine growth (as you can see in the comparison to the right, one transducer with foulfree and one without) which will decrease it's ability to mark depth, fish and bait(as seen below).
PropSpeed's FoulFree creates a thin slick surface that marine growth can not attach to, keeping the transducers surface clean and clear. FoulFree works so well, Airmar certifies that the application of FoulFree coating on its transducers results in no loss in transducer performance.
FoulFree is simple to apply and lasts for up to two years. Transducer paint is nothing new to the marine environment however this nontoxic version is. With FoulFree there is no leaching of harmful chemicals into water.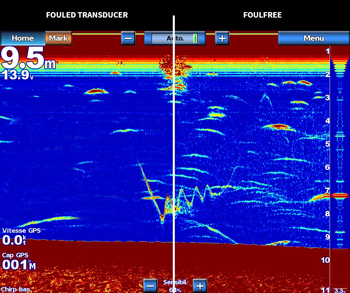 Kit Includes: One 15 ml tube (covers 1 square foot (.30 m) of surface area), XD Clean wipe, applicator brush and a light abrasive pad
FoulFree Box Contents
Each Foul Free Kit Comes with:
One 15 ml Tube of FoulFree
XD Clean Wipe
Application Brush
Light Abrasive Pad
Key Features
Airmar certifies that the application of Foulfree coating on its transducers results in no loss in transducer performance
Greatest advancement in Transducer Paint technology in over 30 years
Simple to apply and lasts for up to two years
Nontoxic - no leaching of harmful chemicals into water
Includes everything needed to apply