5.5-Inch Off Road Navigator with Group Ride Radio Featuring Push-to-Talk Fist Mic!
The Garmin Tread Powersport Navigator was created and built specifically for side-by-side, ATV, and snowmobile riders alike. This 5.5" color navigator has a rugged housing meant to withstand extreme terrain, weather, and temperatures. Preloaded topographic maps for North America provide detailed information with elevations and contours, public land ownership boundaries, U.S. Forest Service roads with trails with Motor Vehicle maps and downloadable Birdseye Satellite Imagery. Pair with select Garmin inReach satellite communicators to stay in touch globally with two-way messaging capabilities and interactive SOS functionality in case of an emergency.
When not riding solo, the Tread navigator has the ability stay connected with your riding buddies with the included push-to-talk fist mic and group tracking feature for up to 20 riders, no cell signal required, and perfect for those off-grid rides. The group ride range varies based on line of sight so in wooded areas you could expect .5-1.5 miles versus open terrain with hills you can expect anywhere from 2-8 miles of range. If you choose not to utilize the fist mic to communicate, no problem, Garmin has you covered. Simply use Bluetooth via a helmet or handset, sold separately, and you're talking with other riders, hands free! Use the Tread app with a compatible smartphone to sync your waypoints, tracks, and routes that you have saved along the way with easy GPX import/export capabilities and gain access to live weather information.
When paired with Garmin PowerSwitch digital switchbox (sold separately), the Tread offers on-screen control for your side-by-sides 12-volt electronics which include light bars, differential locks, and more. The PowerSwitch digital switchbox offers up to six outputs, at 30 amps each, allowing you to create and use smart switches that automatically activate based on vehicle speed and time of day. All of these features can be controlled and viewed via a compatible smartphone or tablet as well as the Tread device. Simplified setup and installation makes this switchbox a breeze to install and pair and get you out on the trails! Garmin PowerSwitch is sold separately.
Mount your Tread navigator with ease with the included powered mount and wiring harness that includes a tube mount. This makes installation on your powersport vehicle a breeze. The built-in altimeter, barometer, compass, and pitch and roll gauges work together for the upmost performance when navigating challenging terrain areas. For clear viewing all around your side-by-side, add and pair up to (4) BC40 wireless cameras to your Tread display for an overall view of your surroundings.
Loaded with points of interest from the iOverlander database and Ultimate Public Campground data gives each user the opportunity to locate points of interest as well as established, wild, and dispersed campsites, virtually anywhere, right at your fingertips- even when cell service is not available. When not connected to power, the Tread navigator can last up to 6 hours on a full charge and up to 3.5 hours with the backlight at 100% and even has media/music controls to listen to and control music from your favorite playlists. Receive spoken turn-by-turn street directions so you will always know where you are, when to expect an upcoming turn, and more. Adventurous routing capabilities will also prepare you for upcoming curvy and hilly roads. For the ultimate off-grid navigational system, the Garmin Tread navigator is the premier device.
Garmin is continually improving the Tread Series with the release of periodic software updates. Software updates are free of charge and available through Garmin Express. The most recent, July 2022 software update adds over a dozen new trails and difficulty ratings for many off-road riding areas. Read more about trails and difficulty ratings here.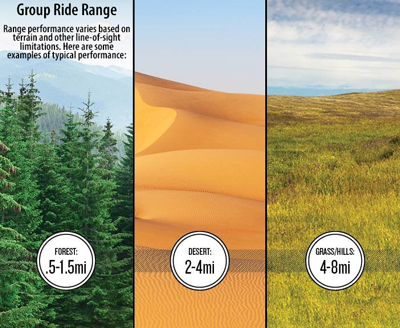 Garmin Tread Powersport Navigator Box Contents
Each Garmin Tread Powersport Navigator Comes with:
Tread Navigator
Fist Mic
VHF Antenna
Antenna Mount Kits
Tube Mount Kits
High-Current Power Cable
Trim Ring Kit (Blue, Black, Red and Green)
USB Cable
Documentation
1 Year Warranty
Garmin Tread Powersport Navigator Key Features
Rugged and Weather-Resistant (IPX7)
Group Ride Radio with Push-to-Talk Fist Mic
Preloaded Topo Maps and Street Mapping
Easy Installation with Powered Mount and Wiring Harness with Tube Mount
Built-in altimeter, barometer, compass, gyroscope and pitch and roll gauges
Size: 5.8"W x 3.5"H x 1"D
Garmin Tread Powersport Navigator Manual Click Here
Product Accessories for Garmin Tread Powersport Navigator
Similar Products and Value Bundles
The Garmin Tread Base Edition is a rugged, powersport navigator with preloaded topo maps of North and Central America, downloadable BirdsEye Satellite Imagery, Motor Vehicle Use Maps and More! Specifically designed for ATV, Side-by-side and snowmobile enthusiasts. The Tread Base Edition has all of the features of the popular Garmin Tread Navigator, without the group ride radio feature and push to talk fist mic.
GA0240601

MAN#

010-02406-01

ID#:

6766