Navionics Platinum Plus charting provides Navionics' most comprehensive coverage for coastal areas. Platinum Plus charts build onto the coverage of Navionics+ maps, adding additional viewing options, relief shading, satellite overlay, SonarChart shading, 3D Views and Panoramic Photos.
Nautical Charts are derived from multiple official government and private sources and are easy to read and understand. Community edits provide useful local knowledge with a crowdsourced approach. Reveal this content through a crowdsourced content layer.
Dock-to-dock Autorouting allows users to start their trip with a suggested route for your start and end point based on chart data and navigational aids. View your estimated fuel consumption, distance and ETA.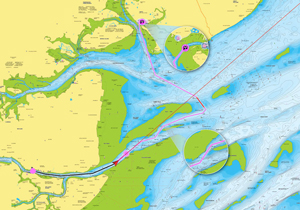 Designed with serious anglers and boaters in mind, Navionics Platinum Plus charts bring unparalleled situational awareness to your time on the water. Embedded within the satellite overlay layer is Navionics SonarChart shading. SonarChart shading provides detailed renderings of the sea floor delivering a unique perspective of underwater topography. Shades of blue display changes in depth that bring awareness to channels, drop-offs and other important features offering clear cues easily identifying structure where fish may congregate.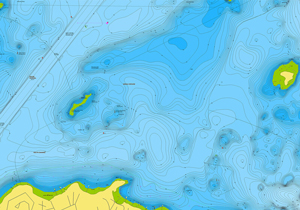 SonarChart shading is created from the 1-foot contour data within SonarChart. This high-definition bathymetric map is frequently updated as Navionics gathers additional sonar logs from users. SonarChart shading coverage now extends farther from shore than ever before.
Navionics Platinum+ Marine Charts include access to High-Resolution Relief Shading (available via download from Navionics.com). Relief shading combines color and shadow to present a clear view of bottom structure. This unique image can be easier to interpret than contour lines alone. This feature is created from multi-beam surveys and other high-definition data. Unlike the SonarChart shading, high-resolution relief shading is displayed through vivid, colorful representations as opposed to shades of blue. Relief shading is currently not available in Hawaii, Caribbean and Alaska.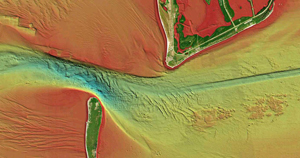 Satellite imagery has been improved to offer more recent, higher quality source images. Satellite imagery works to provide better situational awareness above the waterline. Overhead views of marinas and dock layouts are helpful when navigating new waters.
Customize your view to focuson what matters most. Highlight shallow areas, adjust contour density, select fishing ranges to quickly identify places to explore and more!
What's the difference in Navionics+ and Platinum Plus charts? Navionics Platinum Plus charts offer all of the same great features as Navionics+ charts as well as High-resolution relief shading, Satellite Overlay with SonarChart Shading, 3D Views and Panoramic Views.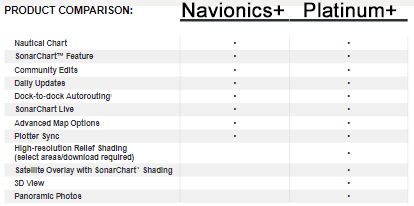 A one-year subscription to Daily Updates is included with your purchase which ensures constant access to current data and up to 5,000 daily updates. Customers must activate their subscription at Navionics.com to download new and updated content using the Navionics Chart Installer.
Read more about Navionics Chart Installer here. High-resolution Relief Shading is only available via download from Navionics.com.
SonarChart Shading coverage is available in many areas.
Click here to check your regions coverage.