Compact, Lightweight 2 Way Communication
The Zoleo Satellite Communicator is a 2 way messaging device with SOS alerting, Weather Forecasts, and true Global Coverage. The Zoleo1 connects with the free ZOLEO App on your smartphone or tablet to transmit personable messages via the well know and reliable Iridium satellite network. Iridium is the only satellite network available to offer 100% global coverage.
The Zoleo Satellite Communicator is the first of its kind to offer satellite, Cellular and Wi-fi messaging When you're in an area without cell coverage at all or in and out of cell service, you can enjoy seamless global messaging from your smartphone or tablet.
Send and receive text, email or app-to-app messages regardless of your location. When sending messages app-to-app, you're able to use 950 characters or even email up to 200 characters. While the Zoleo does not allow for users to make phone calls, the Zoleo App does allow for voice-to-text operation with compatible smartphones- making it easy and simple to create messages.
The Zoleo has your back when there's an emergency. You're able to trigger an SOS alert that is monitored by GEOS. GEOS is the world leader in Emergency Monitoring and Response. DarkSky weather forecasts provides you with ease of mind by sending accurate forecasts for your local area. Each forecast includes the current conditions and a detailed description of the upcoming 36 hours and daily forecasts for 5 days.
MONTHLY SUBSCRIPTION PLAN REQUIRED, Click here for details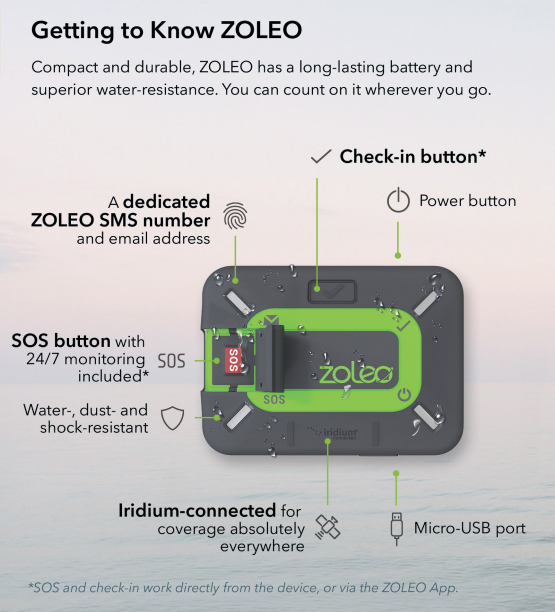 Zoleo Satellite Communicator Box Contents
Each Zoleo Satellite Communicator Comes with:
Zoleo Communicator
Carabiner
USB Charging Cable
Quick Start Guide and Information cards
Two Year Warranty
Zoleo Satellite Communicator Key Features
Satellite Messaging with 24/7 SOS Alert monitoring
Two way communicator via text or email
Compact Size and lightweight
Share GPS location
IP68 Protection from dust and water
Size: 3.58"W x 2.6"H x 1.06"D
Product Accessories for Zoleo Satellite Communicator

Zoleo's Univeral Mount makes connecting your Zoleo to a windshield simple and easy with the RAM® Twist-Lock™ Suction Cup Mount and included USB cable for charging!

Keep your Zoleo within reach while exploring! Packaged with multiple mounts, the Cradle Kit for Zoleo Satellite Communicator includes a Cradle with belt clip, Strap Infill and Camera Mount Options