TRANSDUCER BASICS
THE BEST CHOICE FOR YOUR BOAT AND FISHING STYLE
Some simple guidelines can help you select the best transducer match for your fishfinder, your boat and your fishing style. A properly matched and installed transducer will maximize the performance and enjoyment of your sounder and help you fish more effectively.
While all transducers perform the same general function, there are a range of types and mounting styles to consider. Some are designed to provide depth information only, while others — known as "Tri-Ducers" — provide the sounder with depth, boat speed and water temperature information. This additional information can be very useful to fishermen.
Some information on types/mounting styles:
Transom mount transducers. This style transducer is very popular for smaller fishing boats, skiffs and boats that are stored on trailers. They are great for outboard or I/O-powered boats made of any material, including aluminum. Transom mounted transducers frequently are installed using a "kick-up" bracket to prevent the transducer from breaking off if it strikes an object (or the trailer while loading). Because of their relatively small size, these transducers are most often 600W. While limited in power, a typical dual-frequency 50/200kHz transom mount is a good, versatile transducer for a variety of applications.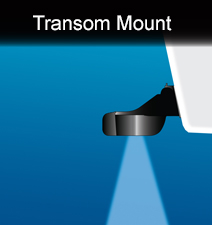 Thru-hull transducers. Thru-hull transducers provide excellent performance for larger sportfishing vessels. Installation requires drilling a hole through the hull, and the transducer is often mounted with a high-performance fairing that keeps the transducer face parallel to the water line for a vertical beam and maximum energy focused on the bottom. Another increasingly popular type of thru-hull is the flush mount thru-hull. This transducer mounts flush to the bottom of the boat and has a tilted element in it's housing to compensate for your boat's deadrise. Most thru-hull transducers are powerful 1kW or 2kW units suitable for professional-grade color sounders and serious offshore use. The most common thru-hull transducers utilize bronze housings that work with fiberglass, wood and other hull materials. Stainless steel thru-hulls are also offered. Plastic thru-hull models are available for aluminum-hulled boats, to prevent galvanic corrosion from dissimilar metals.
In-hull transducers. This design, which mounts inside the hull and shoots its signal through the hull bottom, is a great solution for high-performance fishing boats. On the positive side, there is nothing "hanging below" the hull's running surface to affect boat performance at running speeds. For this same reason, these transducers track the bottom very well at higher speed. You also don't have to worry about marine growth and maintenance issues — and if you ever need to remove it, this is easy to do without hauling the boat. There are some trade-offs, however. In-hulls are large to compensate for signal loss passing through the hull, and must sit inside a small tank of mineral oil. So, you must have adequate room to mount the unit inside the bilge of your boat. Additionally, in-hulls are only recommended for boats with solid fiberglass bottom, and require the use of separate speed and water temperature sensors (if you want this information).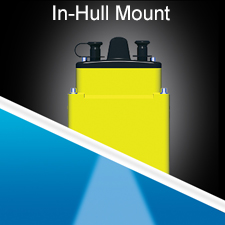 Some thoughts on power. The size/power of your transducer should be matched to the sounder for optimum performance. For the many smaller recreational fishing boats equipped for fishing coastal or offshore waters, a 600W transom mount or thru-hull will suffice. Those who need to mark structure or suspended fish in deep-water canyons, as well as serious tournament anglers, will benefit from a powerful 1kW or 2kW sounder and a matching thru-hull or in-hull transducer.
Broadband, CHIRP, Sidescan, Downscan etc. Some new transducers are designed with Broadband ceramic elements, providing the capability for compatible high-end sounders to "dial-in" a range of high or low frequencies to maximize performance based on conditions. Recent developments in CHIRP (Compressed High-Intensity Radar Pulse) sounder/ transducer technology allow detailed bottom-imaging results never before possible. But it comes at a premium cost and is not necessarily the best choice for every style of fishing. Along the same lines, new sidescan and downscan technology gives boaters the ability to see more detail and find targets away from the boat.
###