UHD Radar Now with ARPA and Fast Target Tracking
The Furuno DRS4DL+ is a 19" UHD Radar that is housed in a compact Radome. The DRS4DL is 36 nautical mile radar that interfaces with all NavNet TZtouch and TZtouch2 MFD's. Built with twice the power of

some of previous Furuno Radars, the Ultra High Definition DRS4DL offers 4kW and a horizontal beam width of 5.2 degrees. The DRS4DL+ spins at a fixed 24 rpm rate and has scales from 1/8th of a mile to 36 nm.
Fast Target Tracking and ARPA - when paired with a suitable heading sensor FTT and ARPA allows the radar to instantly acquire and track up to 10 targets, Once a specific target is selected view speed and course vector almost instantly! Providing accurate tracking, viewing other vessels course and speed is simplified.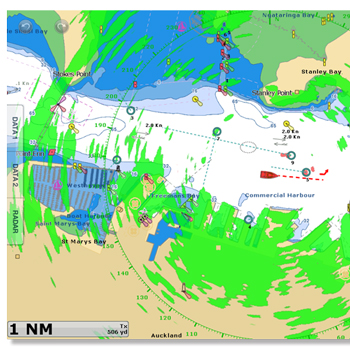 The DRS4DL Plus does not require the addition of the PSU017 power supply, which makes installation easier because it gets its power from a convenient pigtail cable that connects to power and the NAVNET MFD on its own. The DRS4DL works with the NAVNET TZtouch and TZtouch2 systems only.
The Furuno DRS4DL+ ships with a 15M Radar Cable and weighs only 12.5lbs.
Furuno DRS4DL+ Radar Box Contents
Each Furuno DRS4DL+ comes with
:
DRS4DL 19" 4kw Radar Sensor
15m Signal/Power Cable
Mounting Template
Manuals
2-Year Warranty
Size: 19.2" Diameter x 8.7"H
Weight: 12.5 lbs
Furuno DRS4DL+ Key Features
5.2 Degree Horizontal Beamwidth.
Compatible with TZtouch and TZtouch2.
Fast Target Tracking
Ultra-High Definition (UHD) Digital Radar.
4kw Output Power.
Product Accessories for Furuno DRS4DL+ UHD 19" 4kW Radome with ARPA
Similar Products and Value Bundles
Furuno's DRS4D-NXT (Next Generation) Radar combines a Solid-State Radar with pulse compression, Target Analyzer and Fast Target Tracking utilizing Doppler technology. Get open-array like performance in a compact 24" dome for improved safety and situational awareness.
10M Cable Included. Additional Length Options Available.
FUDRS4DNXT

MAN#

DRS4D-NXT

ID#:

4890
Introducing the world's first wireless Radar. Furuno's DRS4W allows access to your Radar directly from your iOS devices or Furuno 1871F/1971F Display. Download the free app from the app store, plug in the power cable and you're ready to go, even access from two iOS devices simultaneously or your Furuno 1871F/1971F Chartplotter. *iOS device required and sold separately.
Power Cable Required. Length Options Available.
FUDRS4W

MAN#

DRS4W

ID#:

4256
Availability:
Backorder,
Expected 11/12/2023